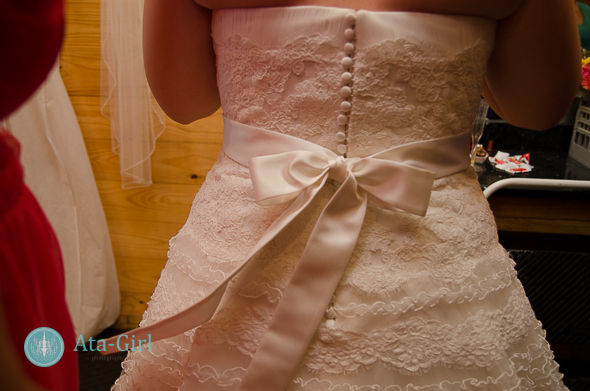 This is not what it sounds like at all.  Last week, I spent some time with an aspiring photographer giving him some one-on-one time to pick my brain.  We spent most of the morning talking about the importance of obtaining a proper exposure, but then he picked my brain with all sorts of other questions about photography. One of the questions he asked was, do you shoot in RAW and what it that?  The answer is yes.  I only shoot in RAW—unless I'm preparing to make a same day slideshow on the wedding day for playback during the reception.  Then, I'll shoot in a basic .jpeg mode and RAW so that I can quickly download the .jpeg files from my SD card and give them a quick post process.  The .jpeg images are only used for the slideshow, nothing else. Otherwise, it's always RAW.
What is RAW?  The analogy I always like to use is baking.  A RAW image is the equivalent to preparing to bake a cake.  I have all my pre-measured ingredients laid out on the kitchen counter.  However, after mixing them, I may decide to add a teaspoon of salt or three cups of sugar. Or a Snickers® bar.  Before I actually bake the cake, I have the freedom to change my recipe with greater flexibility and hopefully, I increase my odds of a better tasting cake.  The .jpeg image is the equivalent of the baked cake.  Yes, I can add a Snickers bar or three cups of sugar to the cake after baking, but all I can do is just lay it on top and doesn't have get baked in goodness.
A RAW file captures all the necessary information from a scene, but leaves all the ingredients laid out on the counter for me.  When I download the image into my post processing software, I can easily change the white balance, increase the exposure, or maybe even recover some highlights.  I can adjust curves, brighten shadows or calibrate the image to a particular lens.  I can also do these things to a .jpeg; however, the bonus is, I can do this without degrading the quality of the image at all. Each time a .jpeg is saved it become a bit degraded—writing to your camera, or baking, counts as the first save.  Then, you move the image to your computer to edit it and save again, that's twice.  If you bake your cake too many times, it eventually becomes dry and crispy, maybe even burnt.  It doesn't taste good.
Here is an image that was shot in RAW with no corrections.  I used a 17-500 f2.6 lens at 19mm, SS 1/60, f2.8 and ISO 200 and using an off-camera flash.  This was a very difficult room to shoot in.  There was one small window with harsh sunlight, tungsten lights over the mirror and walls, and pine walls with an orange tint.  You can see the white dress appears ivory, the bride's skin is red and dark and the pine walls appear a bit orange.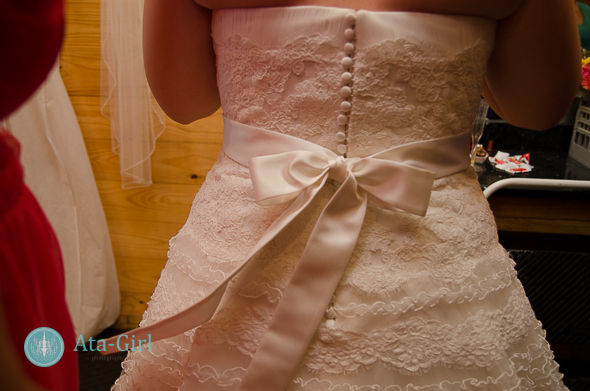 Having shot in RAW, I was easily able to adjust the temperature, and bump the exposure and contrast.  I also increased the shadows, clarity, vibrance and saturation, but decreased the blacks.  I slightly adjusted the curves and removed a little of the noise. Whalla.  Her dress is nice and white and didn't lose any detail.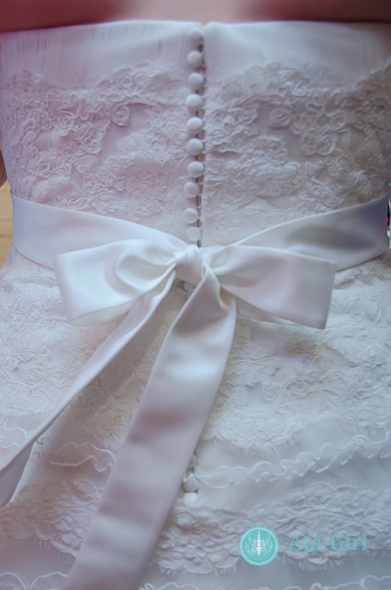 The downside to shooting in RAW is the size of the files.  The RAW files on my D7000 are 20MB each.  After I convert it to a high resolution .jpeg, it's only about 8MB.  You have to use big memory cards, have a lot of space on your hard drives and have the processing power to work with files this big.  They can easily slow your computer down to a crawl if you're not prepared.
If you have any questions you'd like me to try and address, feel free to email or comment on this post. Until next time, be positive, happy, and healthy, and don't forget to be photographed.
_______________________________________________________________________________
I am a San Antonio-based wedding and senior photographer who started Ata-Girl Photography Co., LLC in 2010. As one of the up-and-coming San Antonio wedding photographers, I am also available to shoot in Austin, Houston and Dallas and the surrounding areas. I am also available for destination weddings worldwide. Ata-Girl Photography Co. offers an amazing wedding photography service that you won't soon forget.  As a professional photographer, my sole purpose is to provide you the absolute best photography experience.
I am a professional photographer who enjoys documenting the important milestones and captivating moments in people's lives. I firmly believe that the unique set of circumstances I have faced in life has prepared me to take a personal and genuine interest in my photography clients. When I'm not photographing a wedding, family or high school senior, I enjoy watching my daughter play softball, hiking, cycling, reading, and listening to Elvis!
The post, Shooting in the RAW Format, first appeared on Ata-Girl Photography Co's website and blog. Please feel free to comment here, or share this post with your friends via Facebook, Twitter or Pinterest. Please email me if you have any questions about this article or want to share a neat idea for a future blog post with me.
---