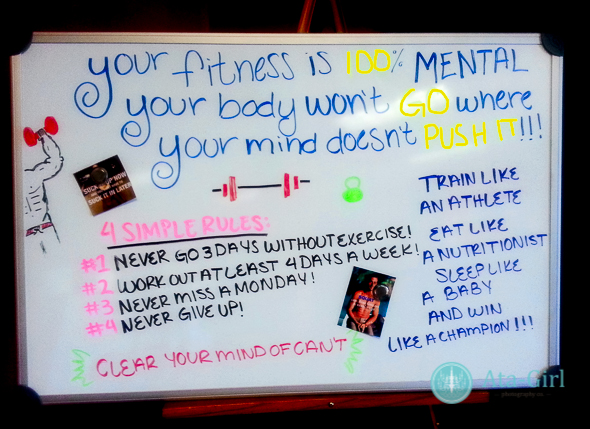 Dear Gym Friends—especially the ladies,
After another almost three-week gymcation and a gain of six pounds, I finally got back to the gym this morning. After revving each other up in a group message last night, I suggested to my gym partners that we to go to the gym at least four days a week for the next four weeks with NO excuses.  Karen countered with three days a week until June 2 (our vacation date). Tricia said she hated the gym on Mondays.
This morning, Trish, Karen and I endured 60 minutes of Body Fit—a great class. During all the side-stepping and adding arms, I started to wonder what makes it so difficult to get to the gym. With kids, work, funerals, meetings, family visits, dogs, TV shows and all the other LIFE stuff, sometimes it's just easier to have an excuse. Sometimes it's easier to not try and find or make the time for yourself. It's less resistance that way.
Honestly, I love every single second I'm at the gym… well, maybe not during the final minutes of Sarah's cycling pyramids, but seriously, I've never, NOT ONCE, regretted showing up to the gym. I've always been a physical competitor and enjoyed breaking a good sweat, but judging from my current physical state, it's impossible to tell.
As the class progressed, I started to realize, I just can't do this on my own.  Over the years, I've had people encourage me and I've tried to do some motivating as well, but for whatever reason, I've always considered myself in this… alone. I've never truly considered anyone else as a partner in this. But, the truth is that I need people to expect seeing me at the gym. I need people to encourage me not to stop. I need to participate in group exercise. I need to know that I have many partners and together, we can be healthier. We are in this TOGETHER!!! And if you are doing an a KILLER knee lift repeater, I'm going to tell you, Simona!
I don't need to weigh 125, but I do need to be fit. I need (and enjoy) an active lifestyle. I want to live a long, comfortable life. I want to burn 500+ calories over the course of an hour. I want to participate in the Ride to Remember and the MS150 bike rides for many years to come. I want to have athletically-inclined and health-conscious friends. I want to share this experience with friends who will be around for as long as I am. I want to be healthy!
And then, as I walked out of Cheryl's class, I saw this. Lanessa had written a personal encouragement to me! Somehow she knew just what I needed to hear… or read.  From now on, these are MY rules… and I won't negotiate. Until next time, be positive, happy, and healthy, and don't forget to be photographed. (For the record, she also knew what Tricia needed to hear: Rule #3, and what Karen needed to hear: Rule #2.)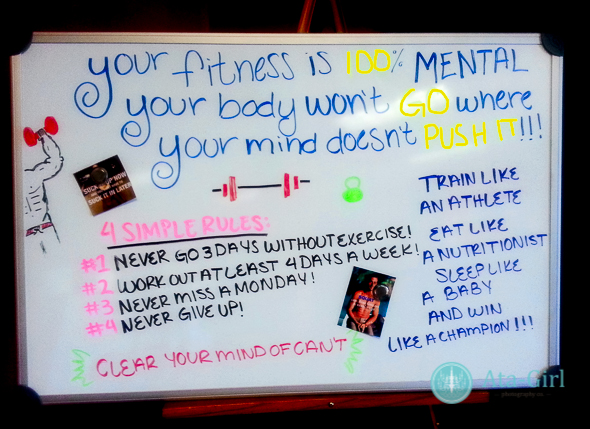 I'd love to meet other ladies who are struggling to stay motivated and find the time to exercise.  I'll meet you at the gym and we can encourage each other. Also, if there are any cyclists in the area, I'd love to re-start a group of afternoon riders. A few years ago, there were about eight of us who rode together almost every afternoon and it was so much fun. We would ride 20-40 miles each day at about a 15-17 mph pace. If you're interested in group road cycling, please join this Facebook Group.
_______________________________________________________________________________
I am a San Antonio-based wedding and senior photographer who started Ata-Girl Photography Co., LLC in 2010. As one of the up-and-coming San Antonio wedding photographers, I am also available to shoot in Austin, Houston and Dallas and the surrounding areas. I am also available for destination weddings worldwide. Ata-Girl Photography Co. offers an amazing wedding photography service that you won't soon forget.  As a professional photographer, my sole purpose is to provide you the absolute best photography experience.
I am a professional photographer who enjoys documenting the important milestones and captivating moments in people's lives. I firmly believe that the unique set of circumstances I have faced in life has prepared me to take a personal and genuine interest in my photography clients. When I'm not photographing a wedding, family or high school senior, I love hiking, cycling, reading, listening to Elvis and most importantly, I enjoy seeing my daughters happy!
The post, Four Simple Rules, first appeared on Ata-Girl Photography Co's website and blog. Please feel free to comment here, or share this post with your friends via Facebook, Twitter or Pinterest. Please email me if you have any questions about this article or want to share a neat idea for a future blog post with me.
---