Seniors (especially girls) will virtually get their picture taken every day of high school—summers included .  With SmartPhones, Instagram and SnapChat as popular as they are, your senior will literally have their picture taken every. single. day.  Senior portraits are important because the session can be a very exclusive time and it is focused only on them.  It's an opportunity to make them feel special, confident and ready to step out into the world.  For the next four years, these portraits will help close the gap between summer visits and the miles between home and campus. These images will help to be a visual hug when you are missing each other.  These images will serve as timeless art that bridges the transformation between adolescence and adulthood.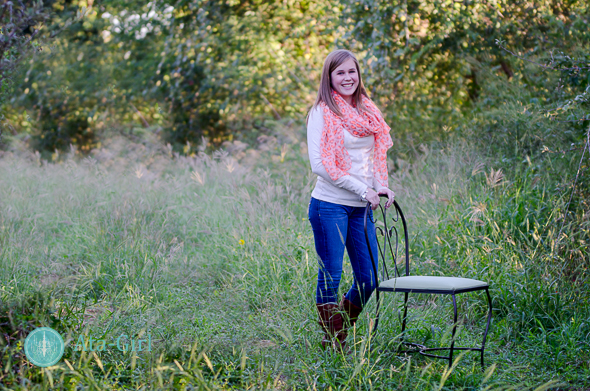 Senior portraits are also an opportunity to document a pivotal point—a milestone in your child's life.  There are only a handful of defining moments  that we share with so many other people in life and high school graduation is one of them (birth, college graduation and marriage are the others).  Your child's life will change so much after this year.  They will go on to meet new friends, discover new interests and explore their independence.  In a lot of ways, the end of high school symbolizes the end of innocence… the end of life's simplicity… the end of the first quarter of one's life.  They will find out who they are after high school.  They will become a new person… an adult.  Preserve this time.
Don't let this transition in life go undocumented.  Don't miss the chance for your high school senior to stand up, get noticed and announce, "Hey world, here I come!"  Because after all, those selfies only go so far!
Until next time, be positive, happy, and healthy, and don't forget to be photographed.
_______________________________________________________________________________
I am a San Antonio-based wedding and senior photographer who started Ata-Girl Photography Co., LLC in 2010. As one of the up-and-coming San Antonio wedding photographers, I am also available to shoot in Austin, Houston and Dallas and the surrounding areas. I am also available for destination weddings worldwide. Ata-Girl Photography Co. offers an amazing wedding photography service that you won't soon forget.  As a professional photographer, my sole purpose is to provide you the absolute best photography experience.
I am a professional photographer who enjoys documenting the important milestones and captivating moments in people's lives. I firmly believe that the unique set of circumstances I have faced in life has prepared me to take a personal and genuine interest in my photography clients. When I'm not photographing a wedding, family or high school senior, I enjoy watching my daughter play softball, hiking, cycling, reading, and listening to Elvis!
The post, Why Senior Portraits are Important, first appeared on Ata-Girl Photography Co's website and blog. Please feel free to comment here, or share this post with your friends via Facebook, Twitter or Pinterest. Please email me if you have any questions about this article or want to share a neat idea for a future blog post with me.
---
You might also like