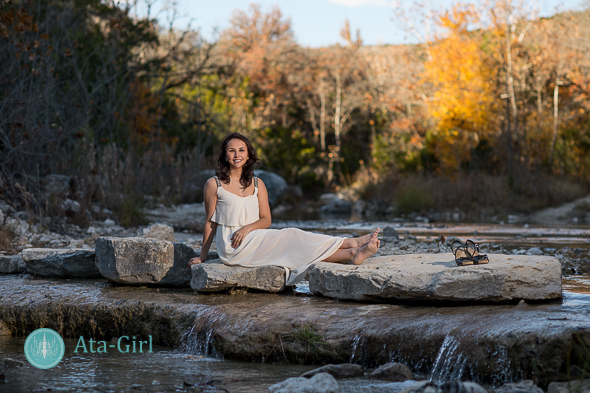 To say Kloe is an overachiever is an understatement… a major understatement! This girl has so many great things going for her, it's hard to keep track. She can more accurately be described as a super-duper, hyper-cosmic, king-sized, mega-achiever! She is in the top ten of her class, a member of the National Honor Society and is one of the ten 2014 Texas FFA Ford Leadership Scholars.  She is also a member of the JHS Student Council and serves as her class president.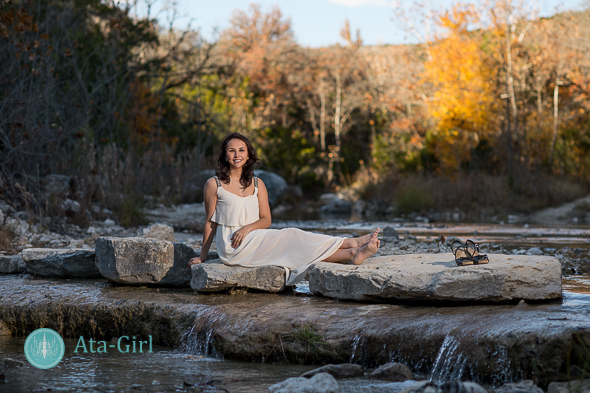 Recently, through projects with the Ford Leadership Scholar program, she has been volunteering time to the Argent Court—a local assisted living facility. She has hosted a football pep rally, domino tournament, pie social and craft day. This winter she also started a blanket and coat drive through the NHS and started an Angel Tree Christmas project. There are more achievements and accolades, a lot more, but I have to save it for her next blog posts because she still has two more senior sessions with me.
For Kloe's first session, we ventured to Lost Maples State Natural Area. Kloe wanted some of her country girl senior photos to have some fall color to them. Lost Maples is filled with Maple trees and other deciduous species. The range of colors was simply spectacular! We hiked in about 3/4-mile to some gorgeous backdrops in the park. By the time we finished, it was in the upper-40s but Kloe was a real trooper. She never complained; however, that could have had something to do with her stealing borrowing her mom's fuzzy socks to finish the shoot.
We carried so much equipment in and had so many people involved in the shoot (Kloe, her mom, Brooke—a hair and makeup artist, and myself) that at one point we were asked if we were shooting for a magazine. Sadly, as beautiful as Kloe looked, I had to answer, "No."
Here's a behind the scene image, followed by some of my favorites from the session: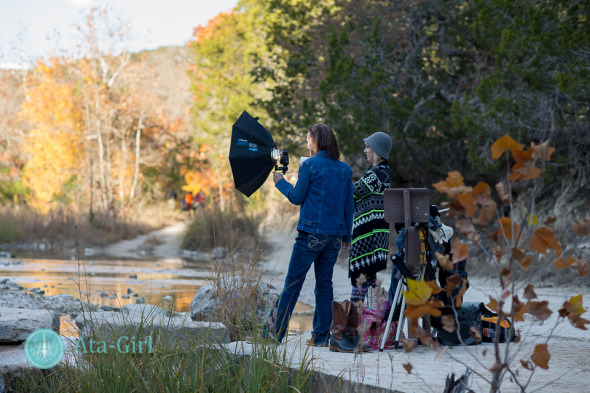 Country Girl Senior Photos
Until next time, be positive, happy, and healthy, and don't forget to be photographed.
_______________________________________________________________________________
I am a San Antonio-based wedding and senior photographer who started Ata-Girl Photography Co., LLC in 2010. As one of the up-and-coming San Antonio wedding photographers, I am also available to shoot in Austin, Houston and Dallas and the surrounding areas. I am also available for destination weddings worldwide. Ata-Girl Photography Co. offers an amazing wedding photography service that you won't soon forget.  As a professional photographer, my sole purpose is to provide you the absolute best photography experience.
I am a professional photographer who enjoys documenting the important milestones and captivating moments in people's lives. I firmly believe that the unique set of circumstances I have faced in life has prepared me to take a personal and genuine interest in my photography clients. When I'm not photographing a wedding, family or high school senior, I love hiking, cycling, reading, listening to Elvis and most importantly, I enjoy seeing my daughters happy!
The post, Kloe's Country Girl Senior Photos, first appeared on Ata-Girl Photography Co's website and blog. Please feel free to comment here, or share this post with your friends via Facebook, Twitter or Pinterest. Please email me if you have any questions about this article or want to share a neat idea for a future blog post with me.
---