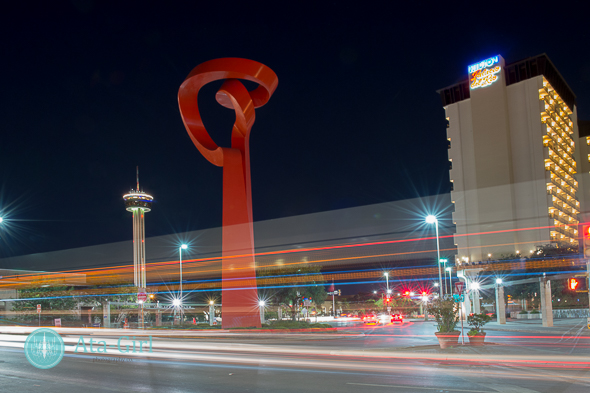 Each month, I choose a favorite images from all the image I captured. And, each month, my favorite image is based on something totally different. I may choose the image based on technical qualities, emotional connections or the amount of creativity it took to capture the image.  Or, I may use a combination of attributes. One month, it may be pure beauty that narrows down my selection. For July, I based it only on technical qualities and the way you can capture motion in a still photo and selected this nighttime photography image.
Nighttime Photography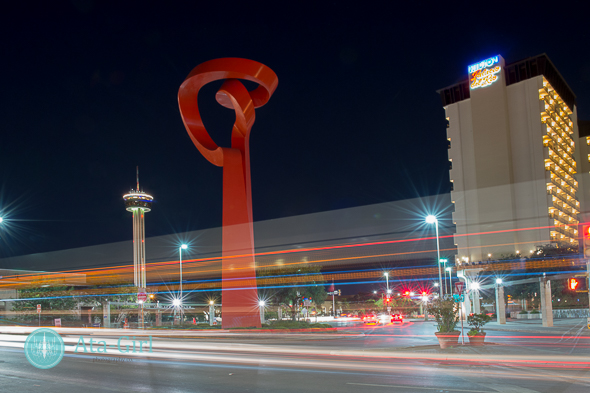 The technical qualities of this nighttime photography image were captured with a Nikon D4S and a 24-70mm f2.8 lens mounted on a tripod. I captured the image from the sidewalk, standing on a grate that covered a sub-ground level window. I was nervous about standing on the grate and there being movement because another photographer was on the same grate with me. Thankfully, neither of us moved enough for that to blur the image. This was a 30-second long exposure at f22 and ISO 640. I didn't yet have a wireless remote to fire my camera, so I just used the self-timer to activate the shutter.
For those unfamiliar with long exposure or nighttime photography, the longer you leave your shutter open, the more light you are able to let in your image. You are able to capture the movement of light, but not necessarily of objects—unless they are moving VERY slow. Notice the lights from the vehicles and buses, but also notice that there are no people in the image although they were walking right in front of me. I believe this was the only image that a bus actually drove by during my exposure, so I was lucky to get all the different levels of lights in the image. I think that really adds a lot of dimension to the image. The very small aperture of f22 creates the star bursts around the stationary lights. I did correct some lens distortion and lots of tiny lens flares that were in the black sky in post.
This is my favorite image from July. Until next time, be positive, happy, and healthy, and don't forget to be photographed.
_______________________________________________________________________________
I am a San Antonio-based wedding and senior photographer who started Ata-Girl Photography Co., LLC in 2010. As one of the up-and-coming San Antonio wedding photographers, I am also available to shoot in Austin, Houston and Dallas and the surrounding areas. I am also available for destination weddings worldwide. Ata-Girl Photography Co. offers an amazing wedding photography service that you won't soon forget.  As a professional photographer, my sole purpose is to provide you the absolute best photography experience.
I am a professional photographer who enjoys documenting the important milestones and captivating moments in people's lives. I firmly believe that the unique set of circumstances I have faced in life has prepared me to take a personal and genuine interest in my photography clients. When I'm not photographing a wedding, family or high school senior, I love hiking, cycling, reading, listening to Elvis and most importantly, I enjoy seeing my daughters happy!
The post, Favorite Image: July, first appeared on Ata-Girl Photography Co's website and blog. Please feel free to comment here, or share this post with your friends via Facebook, Twitter or Pinterest. Please email me if you have any questions about this article or want to share a neat idea for a future blog post with me.
---
You might also like